Are you a player, a coach, or an athletic director? Your all-new game-day experience is at the Medaille College Sports Complex! 
Are you ready to get your game on in Buffalo? Welcome to our city's newest—and most advanced—athletic facility. If you're looking for the best place to play a game, run your rec league, or host a tournament—we're inviting you to take the field at Medaille College Sports Complex. Sound good? Let's go!
Welcome to your home-field advantage for college athletics, rec leagues, and youth sports in Buffalo, New York. If your game is baseball, field hockey, lacrosse, soccer, or softball, then you've got a place to play at the Medaille College Sports Complex! Bring your gear and your A game—we'll handle the rest.
At Medaille College, we're proud of our Buffalo heritage. We're even more excited to be a major player in the development of the city we love. Dedicated to everyone in Western New York, the Medaille College Sports Complex is for you! If you have any questions regarding our facility or how the Medaille College Sports Complex is right for you, feel free to contact us.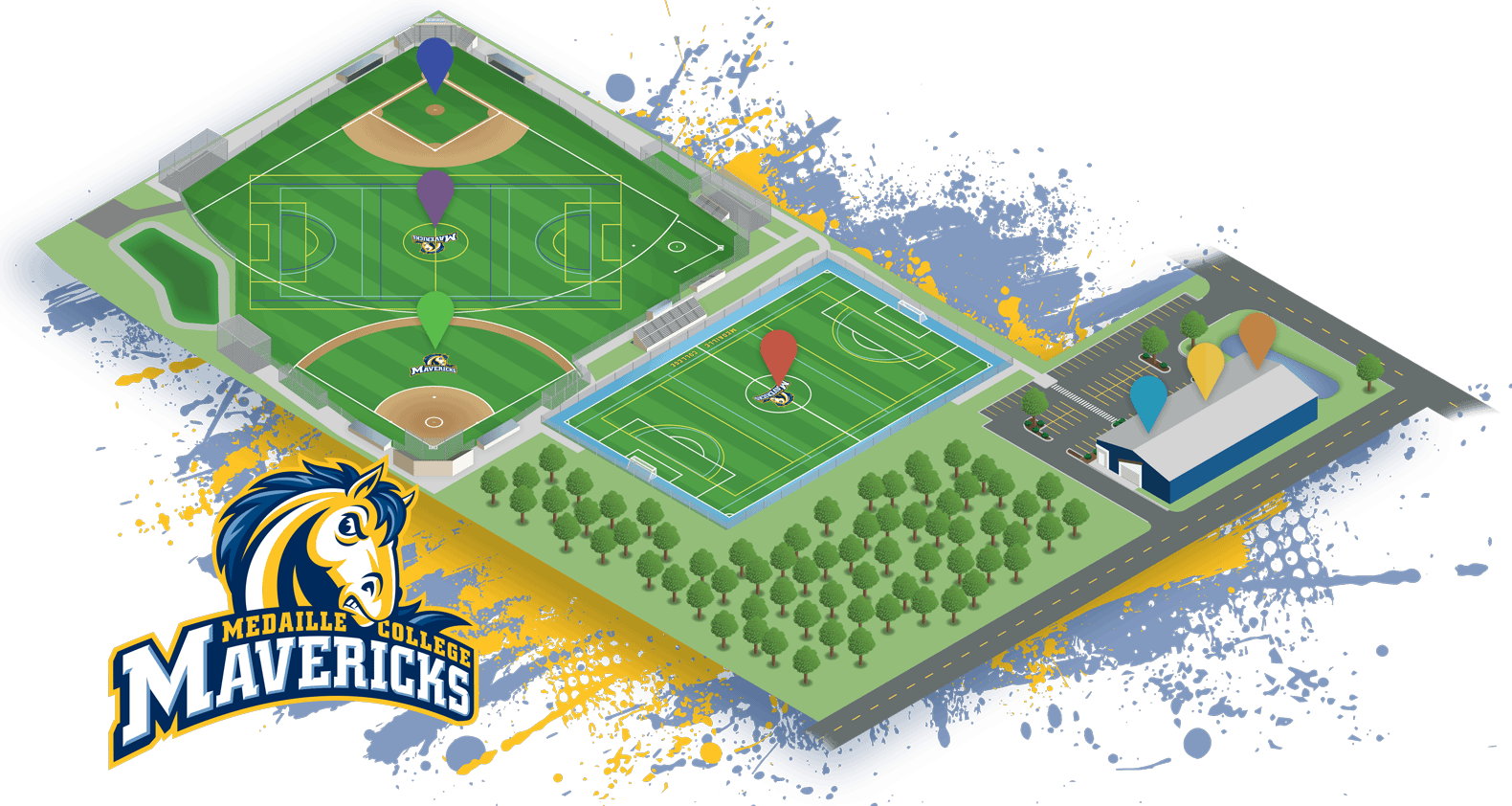 FIELDS:
---
Multipurpose Field 1
Field 1 has the perfect playing surface for men's & women's soccer, lacrosse, and field hockey.
Multipurpose Field 2
Field 2 can host the same sports as Field 1 and features a full-scale softball diamond, too.
SEE THE FIELD SPECS >
Softball Diamond
Ready to dominate? Our softball diamond is for players of all ages and experience levels.
SEE THE DETAILS >
Baseball Diamond
From tee-ball tykes to Triple-A prospects, our baseball diamond is built for victory.
SEE THE DETAILS >
FACILITY:
---
Fitness Center
It's time to prep for your championship run in a cutting-edge strength and conditioning facility. Ours is fully loaded with everything you need to outperform the competition.
SEE THE DETAILS >
Administration Building
Athletics and academics are a winning combination at Medaille! Play smarter, go harder, and keep your teams on track all season long in our new administration building.
SEE THE DETAILS >
Concession Stand
What's a game without a hot dog or cold drink in hand? Give your fans the ultimate game-day experience with access to a fully stocked concession stand and accessible restrooms.
OTHER FEATURES:
---
State-of-the-Art Playing Surface
Face off on over 100,000 square feet of 2-1/2-inch-thick turf—the best concussion-rated playing surface available.
Full Field Lighting
The action doesn't stop when the sun goes down. Keep the dream alive with stadium lighting that lets your team shine under the lights all night long.
Locker Rooms
With four team locker rooms, two locker rooms for coaches, and two locker rooms for officials, everyone has a place to gear up and get their head in the game.
Convenience
Just south of downtown Buffalo. Only minutes from the I-190. A good place to park your car? Yep, an ample parking lot is available.