Heading to the Medaille College Sports Complex for a game or tourney? Here's everything you need to know about what to do, where to stay, and why you'll be back for more.
Best. Sports. City. Ever.
Is Buffalo the greatest sports city in the world? We think so. Our die-hard fans, athletes, and coaches simply live for the love of the game. If you're visiting us here from out of town—we're inviting you to make the most of your experience in Buffalo. Sound good? Let's go! 
See the City. See the Zoo. Buffalo Welcomes You!
When you're not catching a game at the Medaille College Sports Complex, you're invited to explore all that Buffalo has to offer. Come for the games. Stay for the food. Leave with a smile and a story to share!
Note: Many of the links provided below will take you to third party sites with content which is not affiliated with or maintained by Medaille College. Links will open a new browser tab.
Punch Your Ticket to the MCSC!
Hot dog? Done. Cold drink? Sold. See your kid light up the scoreboard, root for your favorite team, or watch the Medaille Mavericks dominate the competition. If you've got a game to see, there's a seat waiting for you at Medaille College Sports Complex!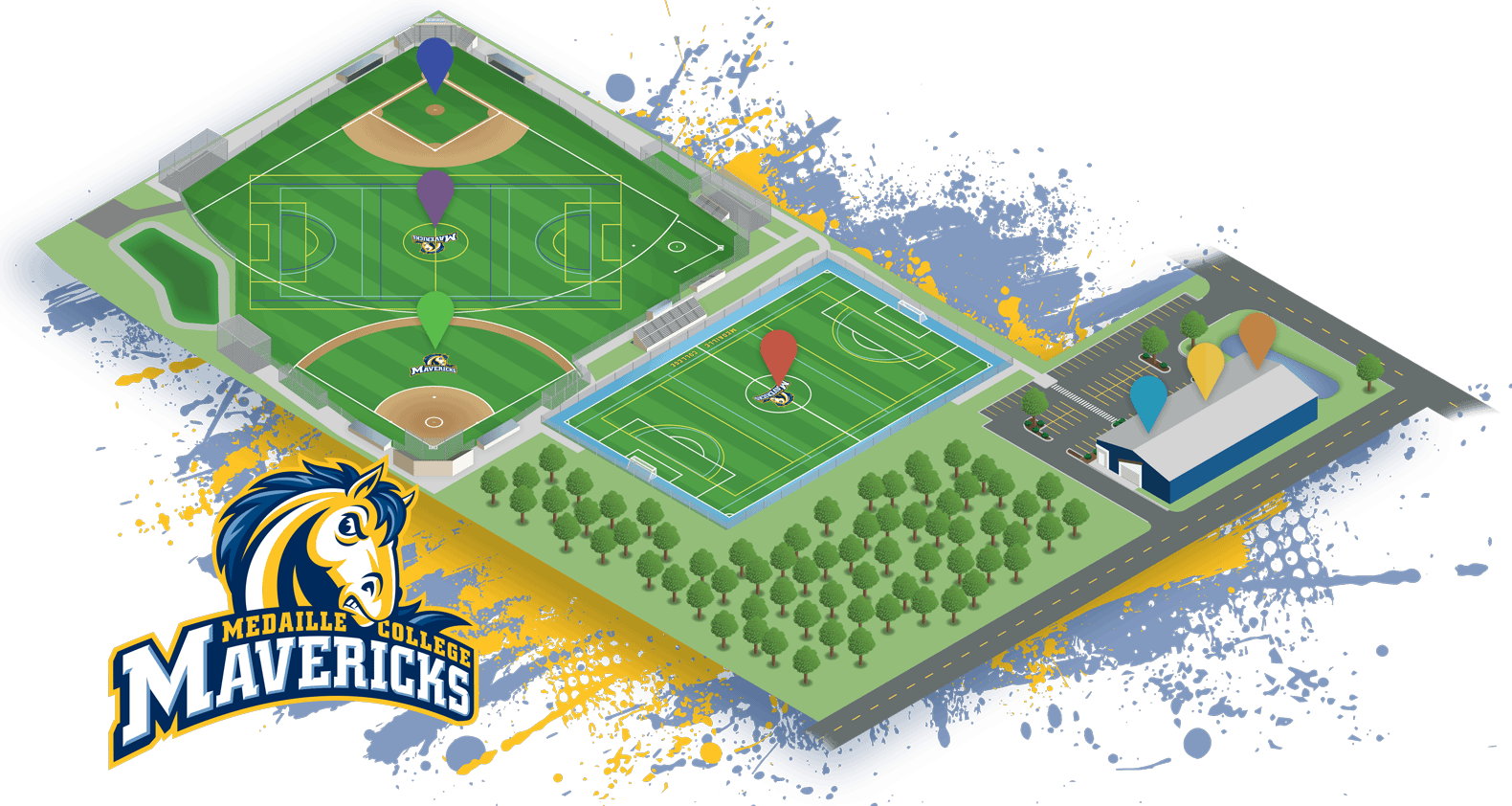 FIELDS:
---
Multipurpose Field 1
Watch your favorite players sprint, shoot, and score on a multipurpose field for men's and women's soccer, lacrosse, and field hockey.
Multipurpose Field 2
Soccer. Lacrosse. Field Hockey. Softball, too?! Yes, this multipurpose field has a fully loaded softball field for players of every level.
Softball Diamond
NCAA regulation dimensions mean two dugouts, two bullpens, a batting cage, and stadium-style seating for softball games.
Baseball Diamond
Catch nine innings or more in a bleacher seat when you cheer on your favorite ball club at our NCAA-regulation-sized baseball diamond.
FACILITY:
Concession Stand
What's a ballgame without a hot dog or cold drink in hand? Add some flavor to your game-day experience at our fully stocked concession stand.
Restrooms
Need to call a timeout and take a break from the action? Our ADA accessible restrooms are conveniently located right next to the concession stand.
Administration Building
Athletics and academics are a winning combination at Medaille! Play smarter, go harder, and keep your teams on track all season long in our new administration building.
OTHER FEATURES:
---
Stadium Seating
Grab a stadium-style bleacher seat and cheer on your favorite team with up to 500 other screaming fans.   
Convenience
Just South of downtown Buffalo. Only minutes from the I-190 and not too far from everything. A good place to park your car? Yep, an ample parking lot is available.
LED Scoreboards
Watch your favorite team light up the state-of-the-art LED scoreboard during the day or under the lights. 
Full Field Lighting
The action doesn't stop when the sun goes down. Keep the dream alive with stadium lighting that lets your team shine under the lights all night long.
Looking to Play?
Find out how you can get in the game at the Medaille College Sports Complex!